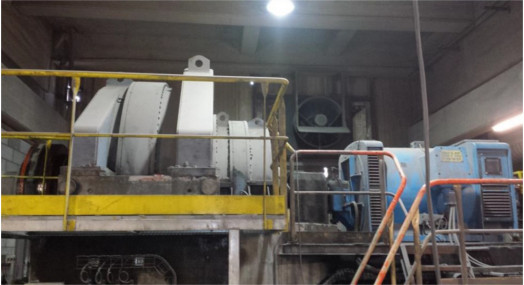 Sibelco is a Belgian company that mines primarily quartz sand . The company's head office is located in Antwerp and has 114 production sites in 31 countries worldwide, with 5,300 employees. Sibelco's Malaysian operations in Pasir Gudang operate a silica and a feldspar grinding plant and Silica sand mining plant equipment.
One of the silica sand crushers at their Pasir Gudang site had repeated gearbox failures and ongoing high vibrations throughout the unit. The Pasir Gudang team decided to rebuild it's gearbox after root cause analysis and extensive analysis of it's operational characteristics.
As part of this high cost rebuild a wireless vibration monitoring system was installed to monitor the ongoing vibration of the unit and prevent future failures. The unit was fitted with VIBX1600 vibration sensors on each of the 3 gearbox stages. The accelerometers were mounted on each end of the gearbox shafts and measured vibration in x,y,z axis. Vibration information was transferred locally to a MHM4 (machine Health Monitor) Gateway device for pre-processing and transmitted wirelessly for aggregation in the AlphaX Cloud platform using the Sigfox network.
The system was configured with 4 vibration zones, A B C and D, based on ISO10816. If the C threshold is exceeded the system automatically alerts staff of a high vibration. Technicians are then able to log in to the AlphaX platform, from anywhere and monitor the vibration in real-time to ensure the vibration is process related and returns to normal levels.
[download_after_email id="35910″]